The Long Beard Farms Property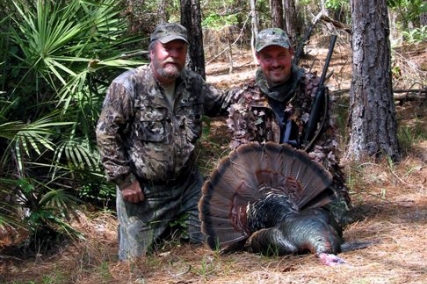 Our main farm is located in Jefferson County, Georgia, and encompasses approximately 4,482 acres of the finest hunting that South Georgia has to offer. Our property is approximately a 30 minute drive from Augusta, a 2.5 hour drive from Atlanta, and a 4 hour drive from Jacksonville, FL. The nearest commercial airport is in Augusta and the nearest private airport is in Louisville (10 minute drive). The property is accessed by a county dirt road and road noise is not something you will hear while hunting Longbeard Farms.
We pride ourselves on having a variety of wildlife habitat so that we can provide quality hunting throughout the season. As the seasons change so do the travel patterns of whitetail deer. We are able to tailor our hunting to the current phase of the whitetail's life cycle. Whether it be the pre-rut, rut or post- rut period we are able to go where the deer are and hunt.
At Longbeard Farms you will encounter mature hardwood forest, planted pine plantation varying in age from 3-30 years in age, hub and spoke thinned upland pine/hardwood areas, commercial agricultural fields, clear cut areas, mature pine forests, and creek and swamp bottom hardwoods. If there is a type of habitat that you like to hunt, I assure you that we have it available! We have a forester on staff with a degree in wildlife biology and before any timber management decision is made its impact on wildlife will be carefully analyzed. We also have a 1,200 acre Washington County, Georgia, property that is outstanding and may be hunted from time to time depending on the weather, rut or other factors.
Our Washington County property, which is a short 30 minute drive from our lodge, has a resident population of wild hogs that can be hunted at no additional charge and with no limit.