Hunting/Fishing Packages and Pricing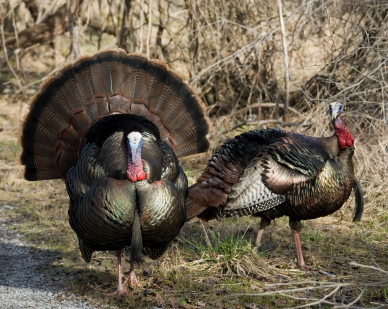 Because we offer such a limited number of hunts we are able to tailor the hunt to the individual group. If you don't see a hunt here that meets your needs please call and inquire. A 50% nonrefundable deposit is required at the time of making your hunting reservation with Longbeard Farms, LLC. However, we understand that things happen. Should a severe emergency arise and you need to reschedule your hunt we will be happy to work with you provided that a later date is available that season.
All deer hunts include meals and lodging, personal guiding, 1 buck, 2 does, unlimited wild hogs, transportation to and from the stand, and processing and packaging of game killed. Airport pickup is also available at an additional fee.
Our quail hunt, squirrel hunt and fishing trip clients seem to want a more tailored package so please call for details and we will be glad to accommodate your specific plans.
Pricing
4 day Guided Deer Rut Hunt (arrive Wednesday afternoon, check rifle zero, hunt Thursday, Friday, Saturday and Sunday morning, all meals and lodging included): $2,100
4 day Guided Deer Hunt: $1,800
4 day Guided Archery Hunt: $1,200
Father/child combo Hunt: $3,000 **Children must be age 12-18**
Quail Hunt $500/day (includes 12 birds cleaned and iced for your return home trip)
3 day Guided Turkey Hunt: $1,500
2 day Father/Son squirrel Hunt: (Please call regarding availability) $750
Bass/Bream/Catfish Fishing: $200/day (self-guided but includes boat use and trolling motor and battery)
Please call about our Masters Golf Tournament Packages (occasionally we can obtain tickets).
Food Plots
I take immense pride in our food plot program as it was the catalyst that started my journey in deer management. My father and one of the best hunters I know, Jerry Dowdy, was planting food plots in the late '70's before it was the "fashionable" thing to do. As a boy I can remember helping him plant fall food plots on our farm and I can remember him telling me that once I got done with law school he was handing the task over to me! I accepted the challenge and consulted with some local farmers while reading everything I could on the subject of food plots. Now after a substantial investment of time and money and a new John Deere 5625 cab tractor our food plot program is truly something to see and has our property teeming with game.
Most hunting lodges are agricultural ventures with hunting as a byproduct. Nothing could be further from the truth with Longbeard Farms as we are a recreational hunting area first and foremost with agriculture as a byproduct. Our 300 acres of commercial agricultural fields are planted annually with corn, soybeans, peanuts and sorghum (no cotton here) and provide outstanding summer nutrition and food for our deer and ensure that our bucks are getting the maximum nutrition that they need for antler growth and development. We have approximately 52 fall food plots varying in size from a half acre to eight acres. Our fall food plots are fertilized and limed according to an annual soil test and then are planted in a blend of yucci arrowleaf clover, Dixie crimson clover, oats, and wheat. This fall blend gives our deer palatable food from September through July. Some of these plots are hunted and some are utilized as "sanctuary areas" and are not hunted. Our food plot program is modeled after the legendary "Banks Farm" method and the results we see are unbelievably good for Georgia. We routinely kill deer grossing over 140" B&C and weighing over 200 lbs.
Stands
We primarily use 2 person ladder stands with shooting rails, but also have ground blinds, enclosed tower stands, and climbing stands strategically placed throughout the property. If you have a preference as to what stand type or habitat type you would like to hunt please let us know. Safety is our primary concern and tree stand safety belts are required to be worn at all times while hunting.
Shot Length
Our food plots are large and the shot you are presented with may be lengthy. We urge all clients to get familiar with their rifles and be able to shoot effectively out to 300 yards. Our rifle range extends beyond 300 yards and you will have the opportunity to check your rifle's zero upon arrival. Custom "sight in" service and load development are available to guests for an additional fee.
Harvest Criteria
We only harvest mature bucks 3.5 years old and older. As always, the antler growth on such a mature buck can vary depending on a number of factors. I hate to place a "point restriction" on kills so if you are happy with the deer feel free to shoot him. Remember, it's your hunt. Make sure you will be happy with your deer before you squeeze the trigger. You can't take the shot back once it's fired.
We encourage the harvesting of does as they eat so much better than a tough old buck. Each hunter may take up to 2 does per hunt and the meat will be processed on site, individually wrapped and frozen for your return home. No button bucks will be shot and any such deer taken will result in a $250 penalty.
We work closely with a local award winning taxidermist and will deliver your trophy to him for mounting, if you so desire.