Accommodations/Lodging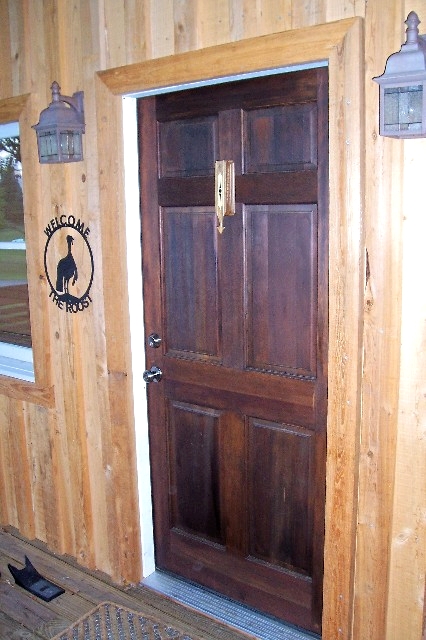 The Longbeard Farms lodge is situated on Magnolia Lake which is in the middle of our 4,482 acre Jefferson County property. The Lodge was built in 2006 by local craftsman with the majority of the wood coming from our local area. The Lodge features cypress board and batten construction on the exterior with a spacious front porch overlooking Magnolia Lake. The view from the front porch swing is one that you will truly never forget.
The interior of the lodge features pecky cypress construction throughout with a huge vaulted ceiling in the great room with a whitetail antler chandelier. The sleeping quarters consist of a loft that sleeps 3 grown men comfortably with a downstairs area that converts into a bedroom for a 4th person. A small kitchen is located in the lodge as well as a small refrigerator that will be stocked with beverages of your choosing. A large walk in closet is located downstairs for use in storing your gear and guns. Our lodge is equipped with a 52" flat screen LCD TV with surround sound that is hooked up to Dish Network and is perfect for watching SEC Football. Fresh towels and linens are provided daily and laundry service with scent free soap is available for an additional fee.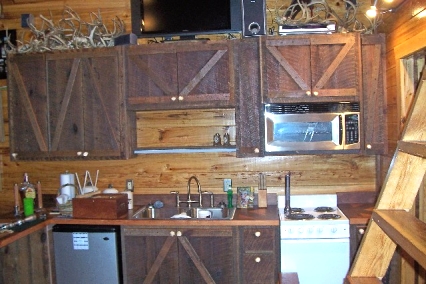 Local trophies adorn the walls of the lodge and detailed maps of the hunting properties are located on the wall for easy reference in planning the next hunt. Our outdoor fire pit is a location that seems to attract quite a bit of attention and serves as a gathering area after the evening hunt as clients relive their experiences on stand to the entire hunting party over cocktails and cigars.